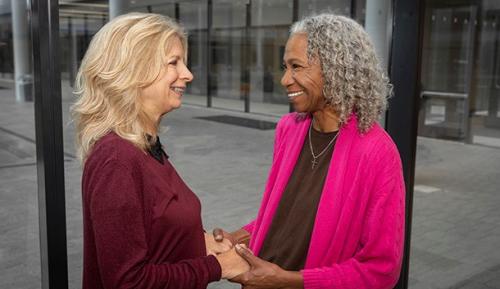 Trestle Tree health coach helps Wenifer Diggs on her journey to quit smoking
It started with one cigarette before bed more than 40 years ago. As is often the case, one turned into two and two turned into three. When life and work stress started to pile up, Wenifer "Wenni" Diggs increasingly lit up a cigarette.
"Instead of one pack lasting a month, all of a sudden it was two packs a week," Diggs said. "I had always just smoked in my house. Then I started to notice I was smoking in public. It was just getting out of control."
Then her mother, a lifelong smoker, got sick. She developed nodules on her lungs and was diagnosed with Chronic Obstructive Pulmonary Disease (COPD). Diggs watched her mother continue to smoke as she struggled with her health issues.
"There is a 20-year difference between me and my mother," said Diggs, 62. "Everything she was experiencing, I knew I would be experiencing 20 years from now. I was seeing my future." 
Diggs, a histotechnologist for Yale University working out of Yale New Haven Hospital, saw a poster for the Tobacco-Free Yale Assistance Program during a physical with her primary care provider in Internal Medicine at the Yale Health Center in 2018. She took down the number, but did not call for months. Finally, she decided she had enough.
"When I realized that it was controlling me, that's when I knew I knew I couldn't stop and needed some help," she said. "Cigarettes were once a friend and then revealed themselves for what they truly were. I decided to make that call and that's when the journey began. And it was a journey."
Diggs connected with Chanel Ostasiewski, RN, a Trestle Tree health coach with the Tobacco Free Yale Assistance Program, who listened to her story and helped develop a plan to reach her goal of quitting. She also offered up some tips such as stuffing cotton into a small plastic straw with a few drops of mint to simulate smoking a menthol cigarette.
"We really try to listen and understand who they are and where they are coming from so we can help them," Ostasiewski said. "Everybody is different and one strategy doesn't work for everyone."
The strategy worked for a while, but Diggs "had a relapse and went on a binge" when her mother got sick again. She smoked one cigarette after another and when the last one was gone, she planned to buy another pack the next day. Then she thought about all of the negative effects smoking was having on her life as well as her relationship with Ostasiewski. She never did buy that pack of cigarettes. That was six months ago.
"I think the health coaches are very important because it's someone in your corner cheering you on and you need that," she said. "You need to be propped up sometimes because it can be depressing, but it's something you can do. I also did not want to lie to Chanel and I did not want to let her down because she had invested in me. I knew if let her down, I'd really be letting myself down."
"Life isn't perfect," Ostasiewski said. "You could have a bad day and take a step back. The important thing is that you learn from it. There are no punishments here. We recognize that there are going to be setbacks and you may fall off your path. We're here to help get you back on track."
Diggs credits her mother for being a compassionate and understanding partner along the way and she still speaks with Ostasiewski every few weeks for support. She is eating better and coughing less. The cravings still come, especially at night. When they do, Diggs just thinks about her journey.
"Looking at it now, I think it's the fear of not being able to overcome it," she said. "You just start with one less cigarette and give yourself a sense of accomplishment. It's baby steps, but you can overcome it. You can take back control."
Learn more about free tobacco cessation coaching and other smoking cessation resources.
Article written by Daniel Champagne